SUPPORT MARITIME HIGH SCHOOL
Student-Centered | Equity-Driven | Maritime-Focused
What is Maritime High School?
---
Maritime High School (MHS) connects students with hands-on, project-based learning to create access to local maritime careers and open doors to college.
Anchored in the Duwamish Valley, the school delivers powerful youth development experiences and exceptional education to students who are furthest from educational justice, resources, and opportunities in the Highline Public Schools and surrounding districts.
Maritime High School is open to students across the region.
Interested in enrolling?
Click here
to learn more.
---
Ways to Support Maritime High School
Watch the recording of our recent event: Launching the Maritime High School
Ways to Support Maritime High School
---
Recruiting & Outreach
Access opportunities for involvement—some of which include sharing communications, hosting events, making connections, and more.
Direct Support of Students
Through direct interaction with students, maritime industry professionals can positively impact a student's understanding of the rich maritime industry through mentorships and internships, attending student presentations, and providing informational interviews.
Support Learning Experiences
Ensure that maritime industry perspectives are fully represented within the school design. Opportunities include providing fieldwork experiences for the students and working closely with MHS teachers and NWMC staff.
Provide Financial Support
Join other maritime industry leaders as a member of the Founders Circle: Make a four-year financial pledge to MHS. Unrestricted gifts provide funds for the school's greatest startup and recruitment needs. Underwrite portions of the curriculum or specific projects.
When you invest in Maritime High School, you're supporting...
A Research-Driven Education Model
Through project-based learning, students at Maritime High School are prepared to be the collaborative problem-solvers of tomorrow. By ­working together to investigate and solve a series of increasingly complex and authentic questions, students actively acquire a deeper knowledge during their studies.
Students follow their interests to learn a trade, earn industry certifications, or pursue the post-secondary path of their choosing, leading to careers on vessels, in management, in ocean sciences, and across the wide range of careers in the maritime world. The school collaborates with community organizations, maritime professionals, and industry employers to address skill gaps, employer readiness, and system barriers that constrain young and diverse people.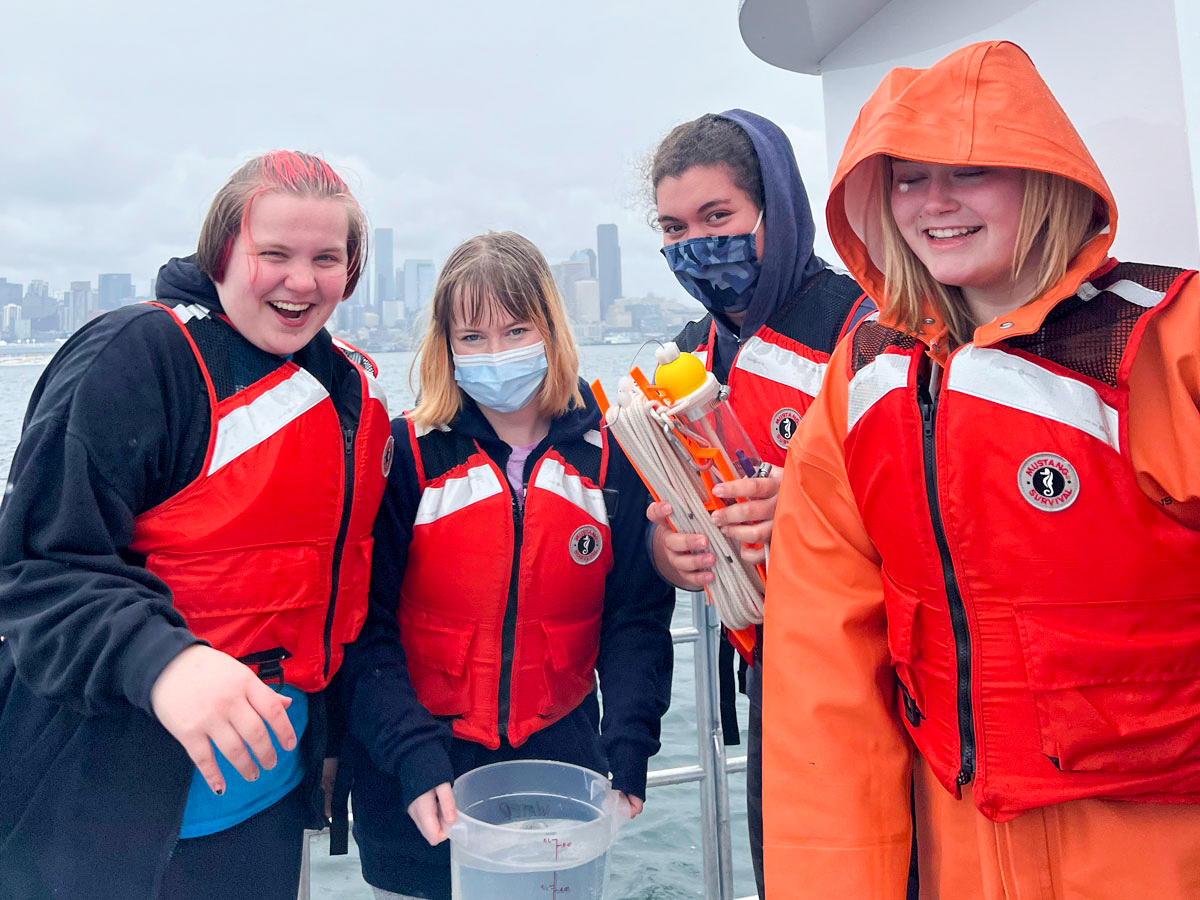 Equitable Access for All
Inclusive programs, policies, and practices ensure that quality education and maritime career opportunities are accessible to all. Focused efforts are made to recruit, engage, prepare, and empower students who are under-represented in maritime and ocean science careers, emphasizing those furthest from educational justice and opportunities, including students of color and girls. The school will actively showcase strong maritime and ocean sciences professionals from these under-represented populations, creating promising pathways for the students.
Abundant Opportunity
The maritime industry is a pillar of the state's economy, yet workforce gaps threaten the sector. Over 800 maritime businesses in King County alone provide 19,500 jobs that pay on average $82,800 per year, substantially better on average than other state industries. The maritime industry projects a significant shortage of mariners, as the sector continues to grow an average of 6.4% a year, buoyed by the latest technologies. Maritime High School will address the workforce gap by training today's students for well-paid, meaningful, and lasting careers. Students of color make up more than 70% of students in the residential areas closest to many of the region's maritime industries and should enjoy commensurate representation in its workforce.
Sustainability
Humanity faces a great and urgent challenge as we confront the effects of climate change and heed the call for environmental justice. Students are well-poised to craft solutions with a multidisciplinary lens to address highly interdependent environmental, social and economic elements of our region and the world. Leaders in safeguarding a sustainable future, students will be prepared to advance environmental justice and prioritize social cohesion for a more responsible future for generations to come.
The global response to climate change will be waged on, in, and around the ocean. Maritime industries will be essential to creating climate solutions, from sustainable fisheries to efficient and clean movement of goods and people over the water, and the development of offshore renewable energy sources. Students will understand how to simultaneously promote economic growth and social inclusion, and be part of the solution to end the catastrophic consequences of climate change.
Friends of Maritime High School
Video Series
These are some of the folks committed to the success of this school and its students, from educators to industry partners and everyone in between.
Anna Stebbins
Facilities Engineer at Lake Union Drydock
Maritime High School Students
Delmas Whittaker
Director of Marine Maintenance at the Port of Seattle
Ebony Welborn & Savannah Smith
Co-founders of Sea Potential
Will Roberts
President of Foss Maritime
Sarah Scherer
Maritime and Manufacturing Advocate at the Seattle Office of Economic Development
Tremain Holloway
Principal of Maritime High School
Videos produced by Darcy Blue Productions
"Our aim is not to just meet students where they are, but where they dream of being."
—Tremain Holloway, Inaugural Principal
Through project-based learning, Maritime High School students learn life skills that will help them achieve their dreams.
"I didn't know Maritime High School would be this hands-on!"
—Inaugural Student of Maritime High School
Meet the Maritime High School partner organizations
Maritime High School is a collaborative project of Highline Public Schools, Northwest Maritime Center, Port of Seattle, and the Duwamish River Cleanup Coalition, with many community and industry partners engaged to support the students.
Highline Public Schools
Highline Public Schools serves more than 18,000 students grades K-12, and encompasses the communities of Burien, Des Moines, Normandy Park, SeaTac and White Center in Washington state. Highline is committed to equity in education, high expectations for all, and partnering with families and the community to ensure all children graduate ready for the future they choose.
Northwest Maritime Center
The mission of the NWMC is to engage and educate people of all generations in traditional and contemporary maritime life, in a spirit of adventure and discovery. We do it in service to our community and maritime industry, but mostly because regardless of the subject, the sea is the most powerful teacher we know.
Duwamish River Community Coalition
DRCC elevates the voice of those impacted by the Duwamish River pollution and other environmental injustices to advocate for a clean, healthy, and equitable environment for people and wildlife. They promote placekeeping and prioritize community capacity and empowerment.
Port of Seattle
Founded in 1911 by a vote of the people as a special purpose government, the Port of Seattle's mission is to promote economic opportunities and quality of life in the region by advancing trade, travel, commerce and job creation in an equitable, accountable and environmentally responsible manner.
This is our moment to create positive regional change through powerful maritime experiences.
If you're excited about the Maritime High School and interested in learning more or investing, contact Angela Hewitson at angela@nwmaritime.org. Or make a gift online by clicking the button below.
MAKE A GIFT TODAY