2023 Date To Be Announced
The largest organized small-boat cruise in North America
Small Boat Cruising in the Puget Sound
Created by the Port Townsend Pocket Yachters club and now part of Northwest Maritime Center's family of events, the Salish 100 has joined the Race to Alaska and the SEVENTY48 as one of the most unique and vibrant water activities in the Pacific Northwest. Salish 100 is 100+ boats cruising 100 nautical miles—the full length of Puget Sound—from Olympia to Port Townsend, WA.
Interested in being part of the cruise?
Email info@salish100.org with questions, or keep reading! Want to apply? Read the required qualifications below, then apply at the bottom of this page.
Salish 100 is designed to bring people together in celebration
The fleet of small boats range from SCAMPs to Whitehalls, wherries, sharpies, melonseeds and flatiron skiffs; this includes a variety of smaller production sailboats and dozens of home-built sailing and rowing boats.
Along the route, small-boat skippers from across the states and other countries will experience everything the Salish Sea has to offer: currents racing through narrow channels, tide rips, sandbars, rocky shores, wonderfully protected anchorages, wind conditions ranging from flat calm to small-craft warnings, encounters with wildlife , and some new friendships that'll last a lifetime. Many of the participants come from inland states to experience saltwater boating—tidal ranges of up to 14 feet—for the first time. Others drive thousands of miles to attend.
Route
Each day's cruise destinations are only 10–16 nautical miles apart. Extending 100 nautical miles, Salish 100 has overnight stops in Henderson Inlet, Penrose Point State Park, Gig Harbor, Blake Island State Park, Kingston and Port Ludlow before reaching Port Townsend. Each days' travel is approximately 10-16 nautical miles.
Entrants are required to maintain a cruising speed of three knots so that all boats reach the overnight destinations in a reasonable number of hours.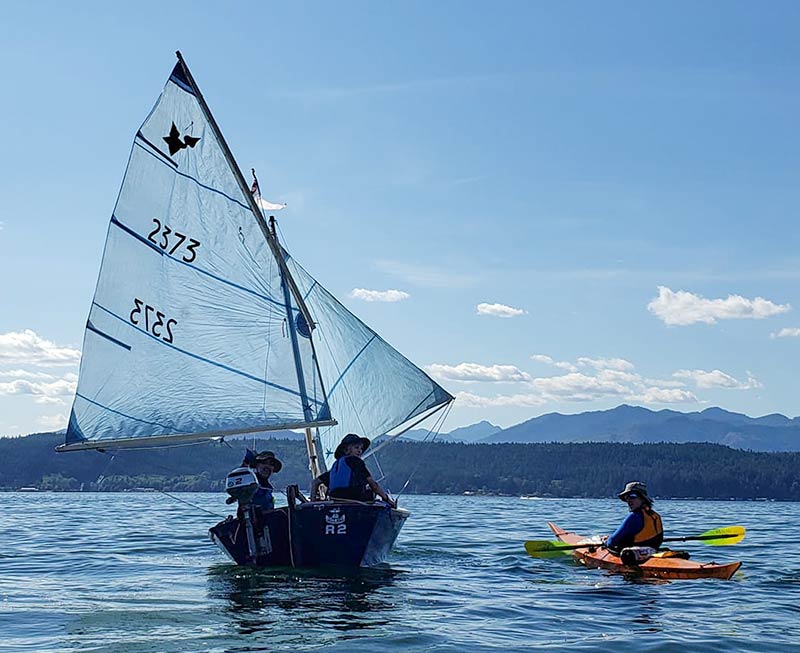 Join Us
Date: TBD
Salish 100 fills up fast, but we welcome all folks with interest and will be happy to add you to our waiting list if we are at our limit. All participants must apply and go through a vetting process based on the vessel's ability to meet basic safety requirements. Read the USCG Minimum Equipment Requirements it's a great resource laying out Coast Guard requirements for small recreational vessels.
Sign up to our mailing list never miss the latest updates.
Support Salish 100
Be part of the fun team that helps keep these smaller boats safe! We are always looking for sailors with boats that are not appropriate as Salish 100 participants but can contribute their vessel and skills. If you have a powerboat or larger sailboat with the ability to tow, go ahead and
apply to be a Safety Support Vessel!
Join Our Online Community!
Thank you to our sponsors...