SALISH 100
July 19-25, 2024
Applications open in early January
Small Boat Cruising in the Puget Sound
Created by the Port Townsend Pocket Yachters and part of Northwest Maritime Center's family of events since 2021, the Salish 100 has joined the Race to Alaska and the SEVENTY48 as one of the most unique and vibrant water activities in the Pacific Northwest. Each summer, the Salish 100 fleet cruises the length of the Puget Sound—100 miles from the State Capital of Olympia to the victorian seaport of Port Townsend—with stops each day for cruisers to join together and share the experience.
[/cs_column]
Small Boat Cruising in the Puget Sound
Created by the Port Townsend Pocket Yachters club and now part of Northwest Maritime Center's family of events, the Salish 100 has joined the Race to Alaska and the SEVENTY48 as one of the most unique and vibrant water activities in the Pacific Northwest. Salish 100 is 100+ boats cruising 100 nautical miles—the full length of Puget Sound—from Olympia to Port Townsend, WA.
Interested in being part of the cruise?
Email info@salish100.org with questions, or keep reading! Want to apply? Read the required qualifications below, then apply at the bottom of this page.
Salish 100 is designed to bring people together in celebration
The fleet of small boats range from SCAMPs to Whitehalls, wherries, sharpies, melonseeds and flatiron skiffs; this includes a variety of smaller production sailboats and dozens of home-built sailing and rowing boats.
Along the route, small-boat skippers from across the states and other countries will experience everything the Salish Sea has to offer: currents racing through narrow channels, tide rips, sandbars, rocky shores, wonderfully protected anchorages, wind conditions ranging from flat calm to small-craft warnings, encounters with wildlife , and some new friendships that'll last a lifetime. Many of the participants come from inland states to experience saltwater boating—tidal ranges of up to 14 feet—for the first time. Others drive thousands of miles to attend.
Route
The Cruise works its way from Olympia to Port Townsend at 10-16 nautical miles a day, with overnight stops at:
Henderson Inlet

Longbranch, Filucy Bay

Gig Harbor
Blake Island State Park
Kingston
Port Ludlow
The final day of travel brings cruisers to the victorian seaport of Port Townsend.
More information can be found in the 2023 Cruise Information Packet.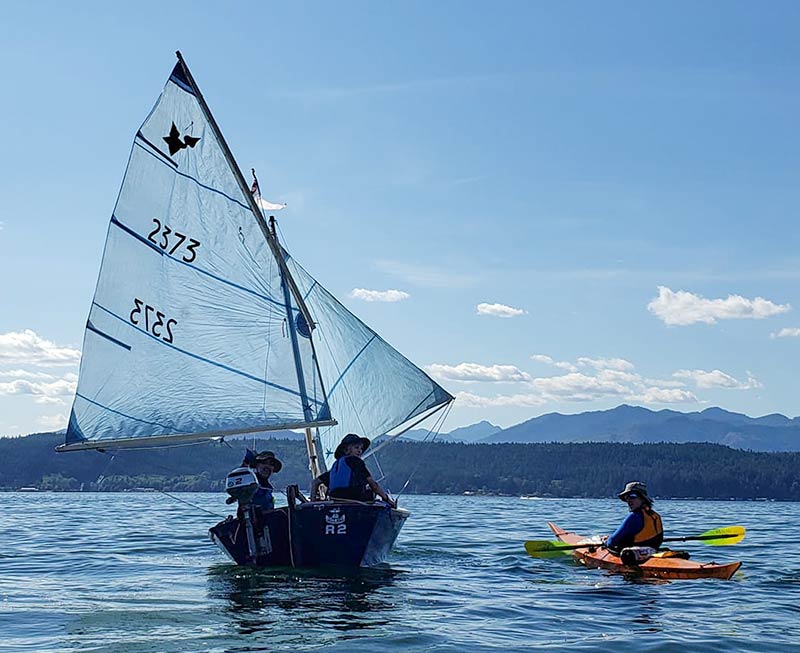 Join Us
Date: July 18-25

Salish 100 applications for 2024 open in early January
. All participants who apply must go through a vetting process based on the vessel's ability to meet basic safety requirements. Read the
USCG Minimum Equipment Requirements
it's a great resource laying out Coast Guard requirements for small recreational vessels.
Sign up to our mailing list never miss the latest updates.
Support Salish 100
Be part of the fun team that helps keep these smaller boats safe! We are always looking for sailors with boats that are not appropriate as Salish 100 participants but can contribute their vessel and skills. If you have a powerboat or larger sailboat with the ability to tow, go ahead and
apply to be a Safety Support Vessel!
We welcome all small boat vessels (22' and under). Salish 100 is about community, camaraderie and seamanship, but safety is our number one priority—it's the only thing we actually take seriously!
While we expect all marine state parks to be fully open for tent campers, those who need to tent-camp ashore will need to take it upon themselves reserve campsites and book accommodations. Cruisers will also need to arrange their own moorage for each port in which they desire a slip.
We encourage you to sign up for updates on our Salish 100 Facebook Group and join Salish.io forum to engage with other past and future cruisers!
---
Be a Safety Support Vessel!
Have a power vessel capable of towing and a desire to lend a hand to the fleet? Apply to become a Support Vessel!
Apply for Safety Support
Application Process + Cost
Just remember, you and your small vessel (22' and under) are evaluated for suitability to Salish 100. It goes like this:
You apply (yes!) with an event fee of $200. This fee includes a custom 2024 Salish 100 burgee, with all proceeds directly supporting programming at the Northwest Maritime Center.

We review your application and you are either accepted or will be asked some clarifying questions or to make some modifications before you are accepted.

If we cannot accept you at all, we will refund your $200 application fee.

Cancellation Policy
Cancellations received in writing (email ok) 60 days before the event are refunded minus a 30% administration fee.

Cancellations made less than 60 days prior to the event (May 19, 2024) will not be refunded.

If we cancel the event for any reason except Force Majeure 100% of Payments can be refunded.

We have tried to make the policy as clear as possible, but if you would like further clarification please reach out to our registrar, verity@nwmaritime.org.
Equipment
For Salish 100 you must carry all the equipment legally required by state and federal governments. (But we are emphasizing and adding some things below:)
Mandatory Safety Equipment
All boats in the Salish 100 are required to carry a VHF radio and monitor it at all times while underway.
VHF radio (handheld is fine)

Dock lines
Sound signaling device
Navigation lights
Flares and/or a waterproof flashlight for signaling at night
Approved PFDs for all, with whistles and sound signaling devices.
Know the laws. Depending on your boat type, you may be required to carry additional items.
Helpful link here.
Recommended Safety Equipment
We think this is smart stuff. If you have capacity on your boat, stay safe, stay prepared.
Tide/current tables
Nav lights
Extra batteries and/or chargers with dock plugs
Visibility—optically and radar
A way to cook
Sufficient floatation for a swamping, especially for open boats
Radar reflector
Sufficient water and food
Adequate first aid supplies
Charts and navigation equipment
Redundant systems for safety, navigation, and emergencies
Compass!!
Phone
Cruising Supply Suggestions
Keep warm and dry gear
Small musical instrument
Food and water, plus snacks, goodies, & beverages
A notebook or journal for the memories
Support Vessels
Each year, several good samaritan mariners with power vessels come along for the fun, in order to provide support to the cruisers. They facilitate good communication, provide tows to boats when the wind won't cooperate, and add extra eyes throughout the fleet.
Join Our Online Community!
Thank you to our supporters...