Salish 100
July 9 -15, 2021
The largest organized small-boat cruise in North America

Small Boat Cruising in the Puget Sound
Created by the Port Townsend Pocket Yachters club and now part of Northwest Maritime Center's family of events, the Salish 100 has joined the Race to Alaska and the SEVENTY48 as three of the most unique and vibrant water activities in the Pacific Northwest. Salish 100 is 135+ boats cruising 100 nautical miles—the full length of Puget Sound—from Olympia to Port Townsend, WA.

Interested in being part of the cruise?
Email info@salish100.org with questions, or keep reading! Want to apply? Read the required qualifications below, then apply at the bottom of this page. Application opens May 3, 2021.
Salish 100 is designed to bring people together in celebration
The fleet of small boats range from SCAMPs to Whitehalls, wherries, sharpies, melonseeds and flatiron skiffs; this includes a variety of smaller production sailboats and dozens of home-built sailing and rowing boats.
Along the route, small-boat skippers from across the states and other countries will experience everything the Salish Sea has to offer: currents racing through narrow channels, tide rips, sandbars, rocky shores, wonderfully protected anchorages, wind conditions ranging from flat calm to small-craft warnings, encounters with wildlife (last time a pod of orcas glided through the fleet near Bainbridge Island), and some new friendships that'll last a lifetime. Many of the participants come from inland states to experience saltwater boating—tidal ranges of up to 14 feet—for the first time. Others drive thousands of miles to attend.
Route
Each day's cruise destinations are only 10–16 nautical miles apart. Extending 100 nautical miles, Salish 100 has overnight stops in Henderson Inlet, Penrose Point State Park, Gig Harbor, Blake Island State Park, Kingston and Port Ludlow before reaching Port Townsend. Each days' travel is approximately 10-16 nautical miles.
Entrants are required to maintain a cruising speed of three knots so that all boats reach the overnight destinations in a reasonable number of hours.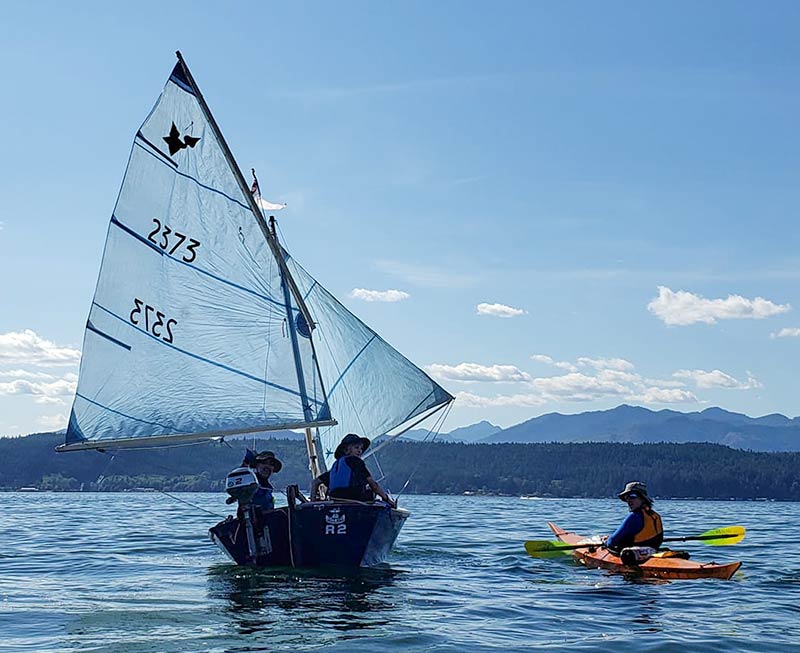 Join Us
July 9–15, 2021
The Salish 100 fills up fast, but we welcome all folks who are interested and will be happy to add you to our waiting list if we are at our limit. All boats have to apply and are vetted. Below is a list of qualifications and mandatory safety requirements to review before you decide to apply.
Support Salish 100
Be part of the fun team that helps keep these smaller boats safe! We are always looking for sailors with boats that are not appropriate for the Salish 100, but want to be part of the trip. If you have a powerboat or larger sailboat, we'd love to have you come along as a safety boat. Apply below, but just remember to select 'support boat' in your boat choice. And thanks for thinking about it!
Join Our Online Community!
Thank you to our sponsors…
We welcome all small boat vessels (22' and under) and larger support boats. If you do want to be part of Salish 100, apply below, but be sure to read the safety requirements. Salish 100 is about community, camaraderie and seamanship, but safety is our number one priority—it's the only thing we actually take seriously!
We know skippers would like to register, but have decided—due to ongoing uncertainties regarding the rollout of vaccines, along with the potential spread of a new coronavirus variant—to delay application from February 4 to Monday, May 3. Look for another update in mid-March.
And know, we'll do whatever we can to hold the small-boat cruise this year, if we can keep participants—and folks we encounter along the way—safe as possible from the virus.
Application Process + Cost
Just remember, you and your small vessel (22' and under) are evaluated for suitability to Salish 100. It goes like this:
You apply (yes!) with a $65 event fee. We know, sweet deal—it gets you the planning and support one would expect for British royalty. We think that much of you!

W

e review your application and you are either accepted or will be asked some clarifying questions or to make some modifications before you are accepted.

If we cannot accept you at all, we will refund your $65 application fee.
Cancellation Policy
If you decided to cancel less than 60 days prior to the Salish 100, you will forfeit your registration fee.

If you cancel 60 days or over prior to the event, you will be refunded your fee less 30% administration fee. 

If we decide to cancel, your cash will be returned.

If we are forced to cancel, because of...well...COVID, or other acts outside of our control, you will have the choice of deferring your registration to the following year's Salish 100, putting your money to one of the many maritime

programs, classes and seminars

we offer, or donating it to the education non-profit that is our parent organization, the 

Northwest Maritime Center

. All are excellent ideas!
Equipment
For Salish 100 you must carry all the equipment legally required by state and federal governments. (But we are emphasizing and adding some things below:)
Mandatory Safety Equipment
All boats in the Salish 100 are required to carry a VHF radio and monitor it at all times while underway.
VHF radio (handheld is fine)

Dock lines
Sound signaling device
Navigation lights
Flares and/or a waterproof flashlight for signaling at night
Approved PFDs for all, with whistles and sound signaling devices.
Know the laws. Depending on your boat type, you may be required to carry additional items such as: radar reflector, fire extinguisher, boarding ladder, anchor and rode, bailer/bilge pump or compass. (Really. Some nincompoop made a compass optional on some boats.)
Helpful link here.
Recommended Safety Equipment
We think this is smart stuff. If you have capacity on your boat, stay safe, stay prepared.
Tide/current tables
Nav lights
Extra batteries and/or chargers with dock plugs
Visibility—optically and radar
A way to cook
Sufficient floatation for a swamping, especially for open boats
Radar reflector
Sufficient water and food
Adequate first aid supplies
Charts and navigation equipment
Redundant systems for safety, navigation, and emergencies
Compass!!
Phone
Cruising Supply Suggestions
Keep warm and dry gear
Small musical instrument
Food and water, plus snacks, goodies, & beverages
A notebook or journal for the memories