Experiential learning through place-based maritime education.
We offer a variety of hands-on learning opportunities for school groups and individual students. Schools can pick from several options and design a program that works for them.
We're here to help design a program that works for you.
Contact School Program Manager Nancy Israel at 360.385.3628 x109 or
nancy@nwmaritime.org
for questions, rates, or to design your program.
NEW! Maritime STEM Learning for Home Schoolers
New maritime classes for homeschoolers ages 8-12 years old! Join our experienced educators for engaging STEM focused activities. Sign up for individual classes or all the entire series.
February 25-March 25, 2019 | Mondays 1:00 - 3:30 PM $25 per class or $110 for the entire series
February 25: Marine Habitat/Intertidal Animals
March 4: Plankton
March 11: Wind and Weather
March 18: Ways of Water (Tides/Currents and Water Quality)
March 25: Mechanical Advantage
For more information contact: Nancy Israel, School Program Manager, nancy@nwmaritime.org or 360.385.3628 x109.
Choose from single day, multi day, and overnight programs
Single Day
Ages 5+
Activities aboard the boats include teambuilding and problem solving while learning to sail, row, and navigate. Activities ashore include navigation, compass use, knots, history of PNW maritime exploration, and boat shop and maritime trades tours. Programs of 2-6 hours in length are available.
Multi Day
Ages 9+
Sail, row, build a boat, and learn maritime skills during 2-5 day intensive programs at the Northwest Maritime Center. Sleep on-site in our spacious meeting rooms and participate in maritime activities including evening programs. Group sizes of up to 40 students can be accommodated. Other lodging options are available.
Overnight Voyaging
Longboats Ages 14+
Join us for 2-10 day maritime voyages. Explore local Port Townsend waters, circumnavigate Marrowstone Island, or sign on for a San Juan Islands expedition. Students build cooperative, leadership, and maritime skills on voyages of exploration and discovery.
Learn More
Choose from a variety of offerings:
On the Water
Sail, row, and navigate aboard historic longboats and other sailing vessels with licensed captains. Learn nautical skills and marine science, and develop confidence and teamwork skills. Longboats are replicas of 19th century ships' boats that up to 12 students row and sail together, offering a window into the maritime history of our region. Our other sailboats provide hands-on experience with all aspects of sailing for up to 5 students at a time.
Boatbuilding
Build a Skunk Island Skill or a 'Nuf under the guidance of an experienced boat builder in our boatshop. Groups of up to five students can work on one boat. Multiple boats can be built at a time. The Skunk Island Skiff is a 12-foot, 140 pound row boat that can be easily handled by a novice rower. The 'Nuf is a featherweight dory that is paddled like a kayak. It is 9-1/2 feet long and weighs 30 lbs. Either boat can be built in 4-5 days.
Mariners' Skills
Come to the NWMC to learn and explore the skills' of a mariner. Learn about the history of the region while participating in hands-on activities that engage the students in learning STEM subjects. We offer a variety of topics for land-based classes that utilize our classrooms, Pilothouse Simulator, and outdoor campus. Options include navigation, compass use, marine science, soundings, knot tying skills, maritime history, and marine trades.
Learn More
---
"Why can't every school day be like this?"
— Chimacum Middle School student
---
Embark on a joint program with other local organizations
Imagine your students taking the helm of a 100-year-old tall ship, assembling the skeleton of a gray whale, and rowing and sailing aboard a historic longboat. Partnerships with other local organizations provide opportunities to fully engage students with our rich regional resources in a captivating and rigorous learning environment.
Sound Experience (Schooner Adventuress)
Sound Experience sails the historic 101' Schooner Adventuress to educate, inspire, and empower an inclusive community to make a difference for the future of our marine environment.
Port Townsend Marine Science Center
PTMSC, located at Fort Worden State Park, offers hands-on experiences in the marine sciences, and features a marine exhibit with local animals in aquariums and touch tanks, as well as a natural history exhibit highlighting scientific investigation and conservation.
---
"I was so happy when I heard our school was doing this program because I want to build and sail my own boat someday."
— Blue Heron student
---
We offer programs for individual students as well.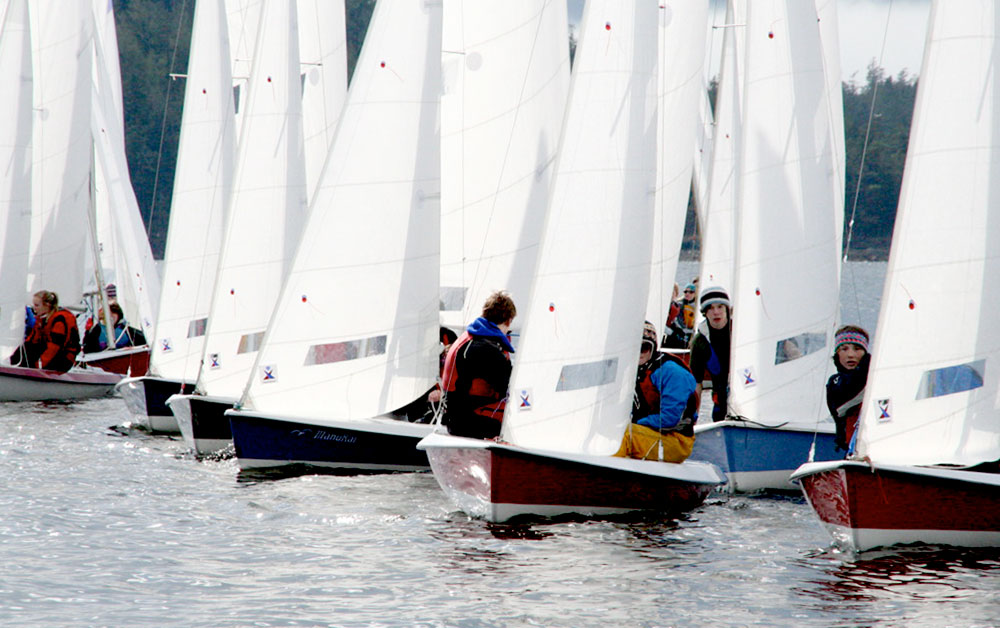 Spring Season Development Team
High School Students 13+
April 4–June 1 | Tues & Thurs 4 PM–6:30 PM
The Port Townsend High School Sailing team is an extremely successful and positive program that has sent some of our local sailors to district and national competitions. Spring development team is the introductory program for sailors interested in joining the sailing team. They sail in the spring on 420s, FJs, and Lasers. Their motto is, "Sail Fast and Have Fun!" Many team members become sailing instructors in our summer youth camps. Sailing team is split into two groups, the development for sailors new to the sport and the travel teams for sailors who are ready to compete. There will be pre-practice evening meetings for this team on Thursdays, March 16, 23, and 30 at the Northwest Maritime Center campus.
Our Summer Learn-to-Sail Camp is a suggested pre-requisite.
Register Now
Spring Season Travel Team
High School Students 13+
March 13–June 2 | Mon & Wed 4 PM–6:30 PM
The program is open to sailors who have been on the team previously or have the coaches invitation to move up from the development team. There will be an pre-season info-meet for this team on Feb 24 at the Northwest Maritime Center, and a rigging work party on Feb 26. We will perfect the skills necessary to compete in fleet and team racing—ranging from perfecting a roll tack, understanding the racing rules of sailing, nailing a start, and gaining a sense of the tactics and strategy necessary to sailboat racing. There are many opportunities for the team to attend local and district-wide regattas most weekends this Spring.
The Spring Season Development Team is a pre-requisite.
Register Now
Summer Race Team
High School Students 13+
June 26–August 17 | Mon, Tues, & Thurs 3:45 PM–6:30 PM
This will be an eight-week program running from the week of June 26 to the week of August 14. Over those eight weeks, we will be primarily sailing C420s, with opportunities to train in lasers and 29ers. Practice will be three evenings a week, (Mon, Tues, and Thurs), with the goal of improving racing skills, and getting more time on the water during the summer. This program is open to any youth who has participated in at least one season of High School Sailing Team. There are 18 spots available, the price is $330 per sailor. We look forward to seeing you out on the water. Please reach out to coach Mary D'Arcy, if you have any questions - marygdarcy@gmail.com.
Participation in at least one High School Sailing Team is a pre-requisite.
Register Now
Women and Girls' programs at Northwest Maritime Center welcome those who identify as women and girls regardless of assignment at birth. These programs also welcome people who identify as non-binary or gender nonconforming and want to be in a female-centered environment.
For girls age 11-14 (6th to 8th grade)
In the Girls' Boat Project, middle school girls gain skills and have fun in the maritime trades, both on and off the water. They learn woodworking and boat building techniques while taking advantage of nice weather days to sail and row on the water. The program culminates with a one-day sailing adventure. The program is led by female role models from the Northwest Maritime Center staff who are skilled in boat building, woodworking, and sailing. Learn more about the Girls' Project at our blog.
Contact Chrissy McLean at chrissy@nwmaritime.org or 360.385.3628 x113 if interested!
Register Now
Women and Girls' programs at Northwest Maritime Center welcome those who identify as women and girls regardless of assignment at birth. These programs also welcome people who identify as non-binary or gender nonconforming and want to be in a female-centered environment.
We're proud to be involved in other school initiatives in our community!
7th Grade Maritime Discovery Program
Classroom lessons coupled with hands-on learning both on and off the water bring classroom subjects to life in the Maritime Discovery Program: science through the study of weather and local wildlife; mathematics through nautical chart use and plotting speed, distance and time; engineering through boat building; social studies through mapping and historical research; language arts through maritime nomenclature and poetry; and art through illustrations of indigenous species and mythological sea creatures and making hand-bound sailor's books.
Students learn seamanship and teamwork as they row and sail in longboats, replicas of the 18th century historic vessels in which Capt. Vancouver explored the Puget Sound. They build a small skiff in our Boatshop that they then launch at the end of the program, and they tour local maritime trades businesses, where they get a glimpse of the maritime industry and the potential for maritime careers should they choose to pursue more in-depth maritime learning.
Our community came together and asked, "Shouldn't all schools be like that?" The 7th Grade Maritime Discovery Program thus became the inspiration and model for the Maritime Discovery Schools, an initiative to connect all grade levels and subjects to our community's unique maritime environment and economy. To learn more about the effort to create the nation's first maritime school district, click here.
Bravo Team
Bravo Team is a longboat seamanship, team building, and environmental learning program that lasts the entire school year. Students are from the OCEAN program of Port Townsend School District. They work together to voyage on Port Townsend Bay, maintain the longboat, and learn about marine trades and the natural history of the Salish Sea. They culminate the year with an overnight voyage. To follow along with their activities during the year, visit the Bravo Team Blog.
We're here to help design a program that works for you.