The Northwest Maritime Center is appreciative of the dedicated support of our community, including an active and well-connected Board. We are grateful to our Board for all the time and energy they bring to our organization, as well as their vision and optimism.
Steve Oliver, President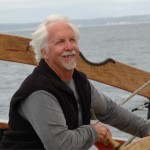 Steve is currently chairman of the Board of First Federal Savings and Loan. He retired from the practice of law in 2010 after serving as President of the Platt Irwin Law Firm, the largest law firm on the Olympic Peninsula, for many years. Steve's law practice emphasized maritime, banking and municipal work as well as real estate development and environmental law and personal injury litigation. He served as general counsel to First Federal for 20 years and as general counsel to the Port of Port Angeles for over 30 years. Steve is a past president and current board member of the Olympic Medical Center Foundation and has served on the boards of many other charitable organizations during his career. He and his wife Kelley own and sail Blackbeard II, a 43′ Bill Garden ketch.
Lynn Terwoerds, President Elect
Lynn began her sailing career late in life with an ocean passage from Hawaii to Seattle and repeated the magical experience again four years later as First Mate. For the past 25 years she has been in information security and risk management, working for large corporations – Microsoft, Barclays and Oracle. Her background includes being a founding member of the Cloud Security Alliance, working on national critical infrastructure protection projects with IT-ISAC and Telecom and Electrical Power Interdependency Task Force. Her volunteer work includes being former board member of the National Women's Sailing Association and currently serving on the advisory board for the Executive Women's Forum. She enjoys sailing locally with her spouse Nancy aboard Tethys.
Andrew Biel, Vice President
Andrew grew up surrounded by oceans… of corn in Illinois. In the 1990s, he came to Seattle for school and fell in love with the water and land of the Pacific Northwest. A brief detour to Colorado lasted twenty years, but now he's happy to be back. He is the CEO of the human science publishing company, Books of Discovery, and the author of Trail Guide to the Body and other texts about anatomy, kinesiology, and palpation. He has served on the boards of the Massage Therapy Foundation in Evanston, IL, the Lyons Regional Library District, and the Lyons Valley Preschool in Lyons, CO. He and his family—Lyn Gregory, Grace, and Elias—spend their time on Discovery Bay.
David King, Treasurer
David's introduction to marine trades came in l971 with his first exposure to wooden boatbuilding on the Chesapeake Bay. A few years later he was teaching boatbuilding at the Apprenticeshop of the Bath Marine Museum in Bath, Maine. David arrived in Port Townsend in 1978 as an itinerate shipwright. Later David was project manager and general manager at Admiral Marine Works Inc., during which time the company grew from 20 to 160 employees. Most recently he was a founder and  the chief financial officer of Townsend Bay Marine, a full-service composite boatbuilding and repair partnership, from 1999 – 2015. David has served on the board of directors of the Northwest School of Wooden Boatbuilding, The Wooden Boat Foundation, and was previously on the Board of the Northwest Maritime Center from 1999 to 2012.  David has a B.A. from Harvard College and holds a certificate in project management from the University of Washington. He was a member of the Port Townsend City Council from 2008 – 2015 and was the City's Mayor from 2012 – 2015.
Jeanne Goussev, Secretary
Jeanne was the skipper of the 2018 winning Race to Alaska team, Sail Like A Girl. The team is a group of 8 women, three with little to no sailing experience, who set out on a journey of adventure and achieved more when they reached Ketchikan as the first monohull to win the race, ever. Jeanne began sailing in 1999 in Boston where she met her husband, Evgeniy, who has circumnavigated the globe on sailboats. They have two children and live on Bainbridge Island. They now proudly own and race their custom Lyman Morse built boat, Gray Wolf in and around Puget Sound.
Jeanne is the Managing Director of Fiduciary Services for Laird Norton Wealth Management, where she administers trusts and estates and carries out the wishes of her clients for the people and non-profits that they love. Laird Norton Wealth Management has the largest privately held trust company in Washington state and a 50+ year history helping families with their complete financial needs. Jeanne has spent volunteer time working to increase planned giving in the Puget Sound area, and is engaged with a number of non-profits to aid them in this goal.
Alex Adams
Alex is a Senior Environmental Program Manager at Port of Seattle where he leads maritime sustainability programs. Prior to working at the Port, Alex led climate change and energy programs at King County's Department of Transportation. Alex is also a licensed captain, with over a decade of experience leading students of all ages on semester-long ocean education trips aboard tall ships in the Great Lakes, and ocean waters between Canada and Trinidad. He also served as captain of King County's Water Taxi and spent time as a fly-fishing guide in Alaska. Alex earned a Bachelor of Arts degree in biology from Wheaton College in Massachusetts, where he grew up, and a Master's in Marine Affairs from the University of Washington. Alex loves living in the Pacific Northwest and is committed to experiential education, addressing the complex issue of climate change, and creating opportunities that inspire others to learn about science, the natural world, and themselves.
Mark Bunzel
Mark is the publisher at Fine Edge Nautical & Recreational Publishing. He is also the new Editor and Publisher of the annual Waggoner Cruising Guide, the most popular cruising guide in the Northwest and British Columbia. The Waggoner is often referred to as "the bible" for Northwest cruising.  Mark has always enjoyed boating, and while working in the corporate world he annually would charter in the San Juan Islands and British Columbia as well as other places around the world including the Caribbean, the Bahamas, the Greek islands, Honduras, Mexico and the Chesapeake Bay area.  Mark holds a U.S. Coast Guard Masters license with endorsements for towing and sail, and is a NAUI-certified scuba diver. In addition to boating, Mark is an instrument-rated, twin-engine private pilot with over 2000 hours of flight time. He is a long distance cyclist, and has completed several Seattle to Portland (STP) cycling events.
Jan Davis
President and founder of International Clinical Educators, Inc. since 1983, Jan is passionate about life-long learning and specializes in creating and producing innovative, video-based educational platforms used in universities around the world. A Port Townsend resident since 1994 and previous Board Member of the NWMC from 2001-2004, she was active in the design and architectural phase of the programs and buildings. She received her undergraduate degree from the University of Puget Sound and her Masters in Rehabilitation Science from the University of Pittsburgh. In 2014 was awarded the Professional Lifetime Achievement Award from the University of Puget Sound. Since childhood Jan has been happiest on the water; swimming, snorkeling, kayaking and sailing, and is delighted to call Port Townsend her home.
Peter Geerlofs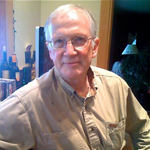 Peter founded Port Townsend Family Physicians in 1976 and practiced medicine in the community for 20 years, as well as serving as Public Health Officer for 10 years. He founded Medifor, a medical software company that was subsequently acquired by Allscripts, where he was Chief Medical Officer for almost ten years. The last seven years have been devoted to writing fiction. Peter is currently working on his third novel while finding time to explore the Inside Passage on his 44' steel Diesel Duck, Seaducktress.
Peter was raised in West Orange, New Jersey. He attended college at Earlham in Richmond, Indiana and Medical School at New Jersey College of Medicine. He completed a three year residency in Family Practice at the University of Washington in Seattle. He is currently completing an MFA in Creative Writing at Goddard.
Sally Goetz Shuler
Sally has spent the past several decades working to transform science learning for our youth, especially those who are underserved and underrepresented. She was the former co-founder and executive director of the National Science Resources Center of the Smithsonian Institution and the National Academies in Washington, DC, and the Washington Informal Science Education Consortium comprised of the Burke Museum, IslandWood, Museum of Flight, Pacific Science Center, Seattle Aquarium, and the Woodland Park Zoo. For the past several years, she has been working as a consultant specializing in capacity building, organizational development, fundraising, partnership development, and strategic and business planning as applied to non-profit management. Her clients include the University of Washington, the Hewlett-Packard Company, the International Society for Technology, and Smithsonian Institution National Museum of the American Indian. She has been a high school science teacher, school district resource leader, and executive. Sally has a BA in Biology from Edinboro State University, and MS in Environmental Health Sciences from George Washington University.
Bruce Jones
Bruce is currently active in several businesses and other activities part time, having left full time employment in 2003. He began his career in programming and programming management, and after ten years in data processing he changed careers and joined Trick and Murray, the family office products and printing business in Seattle, eventually becoming its President and majority owner. He sold the business to Corporate Express in 1992, led the development of the Northwest Division, and later held the corporate position of Vice President – Business Architecture until leaving the company in 2003. He then became involved in another family business, Lake Union Drydock Co., and is currently its Chairman, with a part time role. He is involved in a family foundation and a number of non-profit organizations in the Seattle area, with focus on youth education and the environment. A Seattle native having grown up in Madison Park and married in 1976, he lives on the Eastside with his wife Joanne, and has 4 children and 7 grandchildren all living in the greater Seattle area. He received his college education at the University of Washington. He has been an avid boater and has spent 60 years cruising the Salish Sea, the Inside Passage, and the West Coast.
Neil McCurdy
A lifelong native of the Pacific Northwest and grandson of H.W. McCurdy, Neil carries on the family's maritime tradition through a variety of interests and business endeavors. He is currently the COO of OceanGate, Inc., a provider of manned submersibles for commercial, scientific and exploration applications. Prior to OceanGate, Neil spent 10 years as V.P. of Worldwide Sales & Service for Grand Banks Yachts Ltd. He was an early employee and instrumental in the growth and development of YachtWorld.com, the world's largest online yacht brokerage multiple listing service where he served as VP & General Manger. He enjoyed an early sales career that started in broadcast television, then into wireless telecommunications before delving into the marine industry.
Neil, and his bride, Ann, of 30 years have three grown boys. All avid sailors, Eagle Scouts and active mariners. When he's not on the water, he's skiing in the mountains, riding his bike or working on his sailboat, Discovery.
Ron Moller
Third generation on the family homestead near Gig Harbor, Ron grew up exploring Puget Sound in wooden boats built by his dad. College brought him to California, and a 30-year engineering career at Apple kept him there. Retirement in 2017 allowed Ron and wife Elizabeth to become full-time residents of Port Townsend.
Apple vendor and manufacturing interactions brought extensive international travel, with opportunity to learn from different cultures and work styles. Decades of collaborative engineering experience shaped an ability to bring people of varied backgrounds together in creative problem-solving.
Northwest Maritime Center and all it represents are major factors in Ron's choice to live in Port Townsend; serving on the Board provides opportunity to contribute to that enterprise and its future.
Stuart Mork
Stuart has been a pilot at Puget Sound Pilots for thirteen years, transferring to Washington after a 12-year career as a pilot in Western Alaska. While working in AK, he maintained a home in Chimacum, and now lives in Seattle with his wife Laura. He has had leadership roles at both pilot organizations, serving as either an officer or member of the board of directors, as well as on various standing committees. Stuart's interest in the Northwest Maritime Center revolves around professional training in the Pilothouse, as well as youth education through onsite programs and the Maritime Discovery Schools initiative. He divides his boating time between salmon fishing in a 16-foot Lund, and rowing/sailing a 15-foot Lowell dory.
---
Kris Morris
Kris is founding partner of and counsel to the retained executive search firm Morris & Berger. During the past 25 years, the firm has received numerous honors, including being named one of the 50 leading retained executive search firms in North America. Kris and her colleagues specialize in service to the nonprofit sector. Clients include secondary and post-secondary educational institutions, policy organizations, foundations, arts organizations, and human and social service agencies.
Prior to entering executive search, Kris was an administrator at Occidental College, where she had graduated summa cum laude, Phi Beta Kappa, and where she remains a Trustee Emerita. Between college years, Kris owned and operated a 32-foot Monterey style commercial fishing boat out of San Francisco's Fisherman's Wharf.
She remains active in the philanthropic community, and has served on numerous boards and commissions, including current service on the Port Townsend Arts Commission and previous service on the Greater Los Angeles Boards of the American Red Cross and United Way. On a national level, Kris has been a frequent speaker on topics ranging from change management and institutional leadership to cultural competency.
Caitlin Olmsted
Caitlin is a communications professional with experience developing and executing marketing strategy for a variety of business including enterprise companies, non-profits, and personal brands. With a B.S. in Chemistry from Harvey Mudd College, she leverages her background in math and science to bring a data-driven perspective to solve marketing challenges. Caitlin grew up spending time swimming, fishing, and boating on coastlines across the country as the daughter of a Coast Guard airman. She currently resides in the Ballard neighborhood of Seattle with her husband, Jason.
---
Debbi Vanselow
Debbi's passion for helping clients achieve their financial goals over the last three decades is matched by her passion for spending time near, on, or in the water. She grew up in eastern Washington next to the Columbia River, and when she graduated from Washington State University she moved to Seattle to be near the Puget Sound.
In addition to achieving numerous performance awards over her career as a financial advisor, at Edward Jones Debbi also volunteered as field trainer, mentor, performance leader, Regional Leader, and was a General Partner. She is currently the Women's Inclusion Specialist for the greater Seattle area.
Debbi also served the boards of the Nordic Heritage Museum, University of Washington Friends of the Library, and the Northwest Ladies Golf Association. Debbi and her husband, Larry, split their time between Seattle and Port Townsend. They can often be found sailing on Mystic with their Portuguese Water Dog, Webster, or walking on the beach in Port Townsend.
Trina Wellman
Trina is an environmental economist specializing in marine and coastal management and decision making. She has a Master in Marine Affairs and PhD in Natural Resource Economics from the University of Washington. Formerly from the Woods Hole Oceanographic Institution, the National Ocean and Atmospheric Institution, and Battelle Memorial Institute, Trina is currently working as a private consultant working in economic and ecosystem service valuation related to shellfish aquaculture around the US and ecosystem recovery efforts in the Salish Sea and Downeast Maine. She serves on the the Puget Sound Partnership Science Panel, the Governer's Southern Resident Killer Whale Recovery Task Force, the SeaDoc Society Science Advisory Board, and formerly as Board President of Salish Sea Expeditions. Trina spends part of her year in Sorrento, Maine where she serves on the Board of Directors of the Schoodic Institute in Winter Harbor, Maine and as the Commodore of the Sorrento Yacht Club.
Joe Trump, Board Fellow
Joe has always had a passion for the sea and its lore. He grew up around the country but was always close to the water, whether in the Great Lakes or Atlantic Ocean. A childhood highlight was helping a friend's father sail their 35' boat from Menominee MI, near Green Bay, WI, around Michigan's Upper Peninsula to Marquette, MI on Lake Superior. Joe blended his passion for the sea with his professional life by attending the US Coast Guard Academy where he earned a Bachelor of Science degree in Civil Engineering, and spent three summers aboard America's Tall Ship Eagle sailing to six countries in Europe and the Caribbean. After graduating from CGA, he served aboard three Coast Guard Cutters and now is pursuing his a Master of Science in Civil Engineering at UW and an MBA from the Foster School of Business. In addition to his passion for the sea, Joe loves to explore nature, travel, eat, and learn about new cultures.
Carlyn Stark, Board Emerita
A lifelong boater and the first donor to the Northwest Maritime Center project while on the WBF board in 1995, Carlyn contributes in multiple ways to WBF and NWMC. Respected regionally for her role in bringing the 100 year old Schooner Martha from California to Puget Sound, she is also well known for her decades of work with Four Winds Camp on Orcas Island. Her namesake boat, the Carlyn, sails throughout the sound as an integral part of youth maritime education programs.
Jim Whittaker, Board Emeritus
Jim Whittaker, internationally renowned mountaineer, adventurer and environmentalist, is best known as the first American to summit Mt. Everest, on May 1, 1963. A visionary business and community leader, Jim was the first full-time employee of one of the country's largest outdoor retailers, Recreational Equipment, Inc. – REI – retiring as its President and CEO after 25 years with the company. Jim is a talented and inspirational public speaker, who has given presentations to hundreds of corporations and organizations for more than four decades. He has led numerous, high-profile climbing expeditions, including the first ascent of Mt. Kennedy (with Senator Robert Kennedy) in the Canadian Yukon in 1965, the first American ascent of K2 in 1978, and the spectacularly successful Mt. Everest International Peace Climb in 1990. He is an accomplished blue-water sailor, having twice skippered his own boats on the 2,400-mile Victoria-to-Maui International Yacht Race. He and his wife Dianne Roberts, along with their two sons, made a four-year, 20,000-mile Pacific sailing journey to Australia and back to their home in Port Townsend, Washington, aboard their 54-foot steel ketch, Impossible. Jim is the author of the best-selling, award-winning memoir, A Life on the Edge: Memoirs of Everest and Beyond. (Bio courtesy of jimwhittaker.com.)